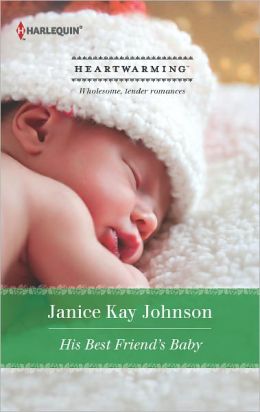 On a beautiful spring night Mindy Fenton went to bed thinking all was right in her world. Before the night was over everything had changed.
Mindy was awakened by Brendan Quinn with the news that her husband had been shot and killed. Now Mindy was alone, nearly broke and pregnant. And Quinn—a man who had never hidden his contempt for her—was the only one she could turn to. For the sake of his best friend, Quinn was offering Mindy and her child a future…if she could accept it.
I LOVED this story. The cover is just adorable!! I'm a sucker for "second chance at love" stories~or I guess I should say~finding love again after the loss of a spouse stories, especially when there is a baby involved. So I was immediately drawn to this book.
Oh...I definitely shed more than a few tears over this one, especially in the beginning. Quinn was such an asshat through most of the book and I felt so bad for Mindy. I don't know how people keep it all together after learning of the death of a spouse~how they can continue to function like normal. Because I think I would have been just like Mindy and I totally understood the way her character acted. Thankfully, Quinn did redeem himself in the best way possible and I so loved their HEA. I would have loved it more if Janice Kay took the epilogue out a little further into the future so I could see how Quinn and Mindy were doing and if they ever had a baby of their own~I wanted that so bad for Quinn!!
His Best Friend's Baby was such a well written, sweet, emotional story that proved something great can come out of a heart~wrenching loss. And I guess ultimately, that life does go on whether we want it to or not. I found myself pulled into the book immediately and wanted Quinn and Mindy to find their HEA~even if separately because they both deserved it and Quinn had suffered so much in his childhood. I also loved how Quinn became more involved with his foster parents. He turned out to be such a great character after he got over his dislike for Mindy. And Mindy was so sweet and funny~I liked her instantly.
Definitely going into my keeper pile to be reread.
4 out of 5 rating!