Lusting for Covers
is a weekly meme, held on Sunday, that allows
bloggers
to share their current cover obsession with fellow book lovers.
Choose your own book cover that you've fallen in "lust" with in the past week. It can be new, old, a reprint, or even a book that is not yet out-- it's all up to you! If you find a cover that catches your eye, then showcase it on your blog, and let others see the pretty covers out there.
(OPTIONAL): Besides posting the picture of the book cover you chose, it's nice to provide the book summary, title, author, or a website link for the book. It's not required, but it can help you readers' to add more books to their own list! A brief "Why I choose this cover" is also appreciated, but not required.
Here's my pick for the week: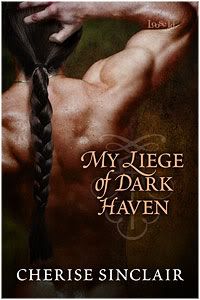 Threatened by university cutbacks, Professor Abigail Bern's only hope is to publish a provocative research paper--soon. Planning to covertly observe behavior in the notorious Dark Haven BDSM club, she takes a receptionist job. When the owner calls upon her to assist in a demonstration, she's appalled. Then fascinated. Under the unyielding hands of the master known as my Liege, she discovers a need to be more than an observer.
His late wife had been the center of his life, and Xavier Leduc wants no other. But when his new receptionist does her utmost to keep an emotional distance from him, he's intrigued and digs deeper. She's adorable. Intriguingly intelligent, beautifully submissive, sweetly vulnerable. He soon realizes her defenses are keeping her on the fringe of her sexuality--and her life. As he draws her into fuller participation, she unconsciously does the same for him. She begins to fill his world.
Ever since the night she met my Liege Xavier, Abby has questioned everything she believes about herself. She's falling for the stern owner of Dark Haven and thinks he's beginning to care for her...until the day he learns why she's in his club.
I did my review on My Liege this week and loved it so much, I thought I would also use it for my L4C pick this week. This is such a SEXY HOT cover to me!!! I love his muscled back, shoulder, and arm and the little droplets of sweat covering him (I like to think it's sweat from all the HOT KINKY sex in this book!!! ;) LOL) I do like men with long hair (if it is taken care of!!) but I am not usually a fan of the braid but on this cover and in My Liege it works for me in a big way!!! In one particular intense scene Xavier lets Abby hold onto his braid to help calm her~this is one of my favorite parts of the book!!! I also love the subtle coloring of the cover, so your eyes are drawn to him. AWESOME cover and AWESOME book!!! :)
Now it's your turn!! What cover are you currently lusting for?