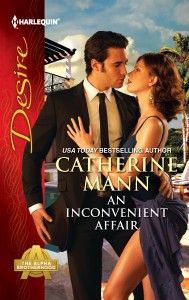 Sometimes wrong feels oh-so right
…
Hillary Wright has always been a magnet for Mr. Wrong. Her latest left her in trouble with the law, and to clear her name, she's agreed to an undercover sting—as the "date" for infamous Troy Donavan. The notorious hacker is now a government good guy…and a sexy billionaire playboy. Troy has a reputation as the sort of man she's vowed to avoid, and his secretiveness adds fuel to Hillary's distrust. But with his kisses like molten sin, her fierce resistance is melting. And being sensible in the face of such overpowering desire is just not an option.
The Alpha Brotherhood:
Bound by an oath to make amends, these billionaires can conquer anything… but love.
AND EVERYTHING FOR EACH OTHER.


After a dark ops malfunction, Major David Berg finds himself dead center in a military trial. It's a race against time to root out the truth, and Major Sophie Campbell isn't making that any easier. The hot JAG wants to bring down David's unit and fast. His testimony is crucial to winning a case that will make her career. All Sophie has to do is ignore this witness's unflappable charm, his unnerving good looks, and a strong, solid presence that commands her attention.
It's not easy for David, either. His attraction to this take-charge beauty is turning him inside out. But these adversaries have more in common than secret, mutual desire. There's a traitor somewhere in the dark ops and now, to find him, David and Sophie must work together—relentlessly, tirelessly, and so intimately it could be damn near fatal.


Catherine Mann Website
Can't wait for these releases!!! I am a HUGE fan of Catherine Mann!!!
WIngman Warrior
series is one of my favorites from her!!! She also is a foster mom for puppies--which I think is totally AWESOME!!! Her website states her books are about
Heroes To Fall In Love With...
and that says it all!!!