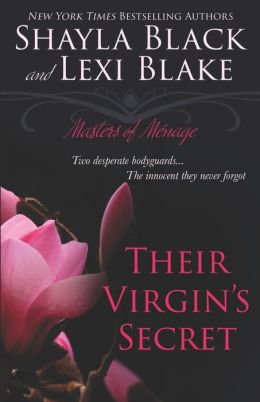 Two Men on a Mission
Security Professionals Burke and Cole Lennox have shared women before but never meant to fall in love with one. Their lives are precarious, always on the edge of trouble. But Jessa Wade is too tempting, too perfect to let go. They're on a dangerous mission, but they can't help but get close to the beautiful, innocent artist. When their mission takes them to a foreign land, they reluctantly leave their love behind, promising to return for her one day.
A Woman with a Secret
After her lovers disappeared, Jessa Wade bravely moves on with her life, protecting her secret. But when she becomes the target of one of Burke and Cole's enemies, the men leap into action, vowing to save their woman and to never leave again. As danger stalks all three, they must come together and face the mistakes of their past. On the run and out of time, Burke and Cole will fight for their future with Jessa. But will Jessa's secret bring them together…or tear them apart?
I loved this book. It was my favorite of the series so far.
I just loved how Burke and Cole are twins and together their actions and personalities make them one ultimate hero!! The way they can tell what the other is thinking lead to some great scenes. The definitely compliment each other by being totally opposite. Jess was a great character and I just loved this trio together. I liked her instantly.
I liked how the story went between the past and the present and allowed you to read how they initially met. This definitely kept me entertained and wanting to see what would happen next.
It broke my heart when Jess had to leave Caleb but I loved that he went to stay with Dex, Slade, Gavin and Hannah. So good.
Their Virgin's Secret was definitely a fun read filled with spicy hot menage sex that steamed up the screen of my Nook more than once. ;) lol Looking forward to the next book in the series but I was disappointed that this one didn't have an epilogue.
I have to say that my favorite part of the book was the end with Burke and Cole sneaking in to hold Caleb. So stinking sweet and funny. Just loved these two.
***Copy provided by Lexi Blake. Thanks Chloe!! :) 5 out of 5 rating.