Teaser Tuesday is a weekly meme hosted by MizB at

Should Be Reading

. This meme is simple and fun, you just pick up your current read, flip to a random page, and choose 1 or 2 teaser sentences to share! Here are the guidelines:
Grab Your Current Read

Open to a random page

Pick two "teaser" sentences from that page

BE CAREFUL NOT TO SHARE SPOILERS! (make sure what you share doesn't give too much away. You don't want to ruin the book for other readers)
INCLUDE the TITLE & AUTHOR too, so other TT participants can add the book to their TBR and wish-lists! If possible, add the page number.
PLEASE LEAVE A COMMENT with either the link to your own
Teaser Tuesdays
post, or share your 'teasers' in a comment here (if you don't have a blog). Thanks!
Today's teaser comes from
Beneath The Surface by

Joya Fields

, published by The Wild Rose Press. This is the first book that I have read from this author. I found her in the RT Book Reviews magazine, May issue. I just started, but I really like it so far!!
So h
ere is my teaser:
He turned, swung his leg over the bike, and started the engine. "Sit behind me...wrap both arms around my waist and relax," he hollered over the engine. "I'll go slowly."
(12% Kindle)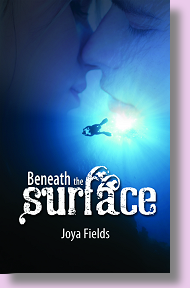 She's fighting to stay independent — he's determined to protect her no matter what...
Brooke Richards survived the earthquake that took her parents and most of her leg, but she needs time to regroup. A trip to Florida for a state-of-the-art prosthesis and to visit her best friend Linda seems ideal.
But the trip turns traumatic when Brooke witnesses Linda's boat disintegrating in a fiery explosion.
Police Officer Garrett Ciavello believes the blast was intentionally set to hide something Linda found on a dive. When Brooke offers her expertise in underwater archaeology, Garrett accepts her help with the investigation. But since his fiancée's death years ago, Garrett has become overprotective, and as they are drawn to each other, Garrett realizes he will risk anything to keep Brooke safe.
Brooke is fiercely independent. Garrett is fiercely protective. Will they heal each other's wounds and find a killer... before it's too late?
Any teasers to share this week?
I found Teaser Tuesday at
Book Savvy Babe
.