Christine Wenrick is a new author to me and I am so happy to have her here today!! She has been so sweet and easy to work with and I am honored she agreed to come and chat about her AWESOME new book: The Charmed. Such a great story with interesting and lovable characters that kept me entertained and left me wanting more. I am already so invested in Caleb and Olivia's story and their journey towards a HEA.
I am anxiously waiting for the second book. (Per Christine's website: The Charmed Souls will be released Thanksgiving Day 2012 and The Charmed Fates will be released spring of 2013.)
Woo-Hoo!!
Click
here
for my review. I will stop talking now and let Christine take over. :)
First off, I would like to thank Mariann for letting me take over her blog for a day, and for hosting an
eBook giveaway for one of you---of The Charmed, the first book of my exciting Charmed Trilogy.
I wrote The Charmed three years ago, just before Twilight craziness was about to hit movie theaters.
At the time it seemed like a case of really bad timing to release a story about vampires, Dhampirs,
and Lycans living on the fringes of Seattle. So I just set it aside and kept writing. Before I knew it I
had completed the whole trilogy and had an outline for a second series of five books based on other
characters you meet in The Charmed (following in the footsteps of one of my very favorite author Lisa
Kleypas. Seriously, I could read the Hathaway series like 20 times). Currently I am working on Book III of
that second series which has, what I believe, a unique twist on the Prologues of each of book that I can't
wait to share.
But alas, I must 'slow my roll' as they say . . . one book at a time.
I am very proud of this first book and the series, and I hope all of you will become as invested in Olivia
and Caleb's story as I have. When all eight books of the two connected series are complete, I want
you the reader to feel as if you've been on an incredible romantic journey with a lot of mystery and
unexpected surprises along the way.
Which brings up a good question . . . Do you readers like to start a new series with characters you have
been introduced to in a previous series?
Shoot me a question or comment. Let me know what's on your mind. I love to hear from people who
devour the captivating, unexpected, and sigh-worthy world of romance novels just as much as I do.
GIVEAWAY:
One lucky commenter will win an e-book copy of The Charmed. All you have to do is leave a comment to enter and a winner will be chosen at random.
Contest runs thru Wednesday, October 17, 2012 at 11:59 pm est. Winner to be chosen on Thursday, October 18, 2012. THANK YOU and GOOD LUCK to everyone who enters!! :)
In The Charmed—Book One of The Charmed Trilogy—Olivia Ann Greyson sees only one future for herself—to compose and perform the music she has loved since she was a child. But that future changes in an instant when a commuter train taking her to the city crashes and is attacked by, unbelievably, a coven of vampires! As the rabid creatures feed their thirst on the surviving passengers, Olivia is spared from an unthinkable fate because of the intervention of another vampire—Caleb Wolfe, a figure from her past who, for reasons he doesn't understand himself, would do anything to protect her.
After one familiar touch, Olivia recognizes the man behind the vampire. Soon love, and a powerful supernatural connection, begins to grow between them. But with that connection Olivia starts to notice starling changes happening within herself, and violent events make it clear that the vampire coven which wanted her the night of the train crash won't stop until they have her.
Time is running out for Olivia and Caleb to discover why all this is happening. And the answers they find may painfully tear their new love apart.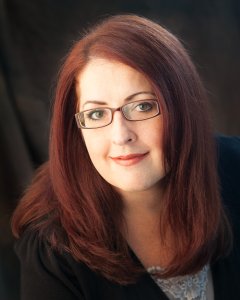 Christine is a graduate of Washington State University where she received a BA in Interior Design. And true to form of using mostly her
'right brain'
, she splits her time between her commercial design career and her imaginary world of writing. She lives in the scenic Pacific Northwest where she enjoys hiking, camping and photographing many of the wonderful places that served as inspiration for her Charmed Trilogy. Her biggest reward in life is any given day when one of her books connects with a reader because she herself is such a lover of reading. Some of her favorite authors include Lisa Kleypas, Julia Quinn, and Kimberly Derting.
You can find Christine at:
Goodreads
Facebook
Twitter:
@CWenrick
Website
Email:
christine@christinewenrick.com
Thanks so much Christine!! I love books in a series. So I'm all for a new series that involves characters from the previous series. I'm also a HUGE fan of Lisa Kleypas and the Hathaway series is one of my favorites. I haven't read anything from Kimberly Derting~I will have to check her out.