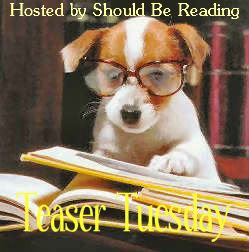 Teaser Tuesday is a weekly meme hosted by MizB at
Should Be Reading
. This meme is simple and fun, you just pick up your current read, flip to a random page, and choose 1 or 2 teaser sentences to share! Here are the guidelines:
Grab Your Current Read

Open to a random page

Pick two "teaser" sentences from that page

BE CAREFUL NOT TO SHARE SPOILERS! (make sure what you share doesn't give too much away. You don't want to ruin the book for other readers)
INCLUDE the TITLE & AUTHOR too, so other TT participants can add the book to their TBR and wish-lists! If possible, add the page number.
PLEASE LEAVE A COMMENT with either the link to your own
Teaser Tuesdays
post, or share your 'teasers' in a comment here (if you don't have a blog). Thanks!
Today's teaser comes from Mystery Man by
Kristen Ashley.
"Babe, we don't need an excuse. Anyone who sees you in that dress and those shoes will know exactly why we're late." I felt my face pale, actually felt it, and turned my head to look at him. "That isn't true." "Okay, I'll amend my statement. Any man who sees you in that dress and those shoes
will know exactly why we're late. Including your Dad."
(Kindle 87%)
While drinking cosmopolitans, Gwendolyn Kidd meets the man of her dreams. Then she takes him home. Then she wakes up alone. But her fear that she lost her dream man turns into a relationship with a mystery man when, night after night in the dead of night, he comes back for more. Hoping it will blossom into something real, she lets him. But she doesn't even know his name.

Gwen's struggling with the decision to end their crazy non-relationship when her sister-from-hell, Ginger's best friend pays a visit and warns Gwen that if she and her sister don't get smart, they'll both get d-e-a-d, dead. Gwen has no clue what's going on but she's used to Ginger's antics and decides to lay the problem on her sister's biker boyfriend's doorstep. Bad choice. She hits the Denver Underground radar with a big, loud ping.

This means Gwen's Mystery Man, Cabe "Hawk" Delgado has to step in to keep her safe. But when Hawk gets a dose of Gwen in the daylight, he makes the decision that he finally wants real with Gwen. However when Gwen gets a dose of badass, bossy, straight-talker Hawk in the daylight, she decides she's done.

Thus begins the head-to-head of the Commando vs. Cosmo Girl as Hawk woos Gwen in his own unique way, Gwen survives firebombs, drive-bys, kidnappings, hot pursuits by biker hotties and gorgeous police detectives and discovers the heartbreaking reason why Hawk kept her at arm's length.

And as all this happens, Gwen finds that her sister's troubles are serious trouble and she must decide who to keep alive: her sister-from-hell or the man of her dreams.
Now it's your turn!!
I found Teaser Tuesday at

Book Savvy Babe

.